2014 has been a big year for the Sheffield Sling Surgery – it opened in April 2013 so it only passed its first birthday this year! A huge amount of work has been done in the last twelve months.
So what have I been up to?
On the local front:
There have been over 1,500 uses of the service, in terms of hires/consults/workshops. There have been many, many more more undocumented visits for advice and general support, the social aspect of sling gatherings, and countless behind-the-scenes replies to emails, messages and so on, with personalised support and query answering.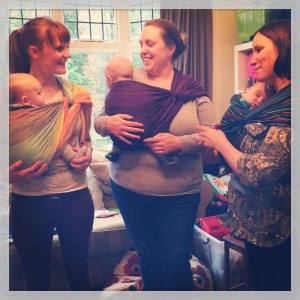 There are now 180 carriers in the library, and over Christmas, over 75% of them were happily being used by families rather than on my shelves!
The volunteer team has grown to 17, which is superb; a real testimony to the time and energy commitment people are willing to give in various guises (online as well as peer supporting). I'm very well supported by these fantastic people and very grateful to them!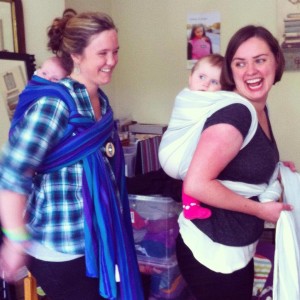 Slings in the City launched in March this year (a drop in sling library session) and has been a runaway success. We had to move after a few months as our first meeting place was rapidly outgrown. We're happy in our current home at the Montgomery in the city centre as it is so very central and easily accessible by public transport to people all over the region.


We're on the lookout for more volunteers as the service becomes increasingly in demand! This fortnightly session helps between 60 to 70 people a month; and wouldn't be possible without the wonderful people who volunteer. Our volunteer list has changed in the nine months we've been running, as babies have grown into active toddlers and people have had to go back to work – but Kiri and I remain a fixture <3
A huge thank you is owed to the many people who have helped get this up and running and those who keep it going now! Kiri herself has gone on to set up a sling library in Barnsley where she lives, a town north of Sheffield; the Carry Ar Kid sling library, and in 2015 she too will be a sling consultant!
In June I was asked to do a wrap demo for a few mums in Stocksbridge, a village north of Sheffield; this was a great success and from this positive start, the Stocksbridge Sling Meet was born.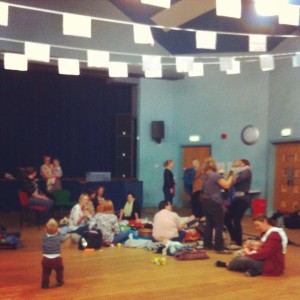 This is now a regular session with anything from 15 – 20 parents coming along one Wednesday each month (at present meeting in Jungle Monkeys) and they now have their own group for sling spots and encouragement.
In September, Lindsay Snow of BabyCalm and I collaborated to launch "The 4th Trimester" – a fortnightly drop in for pregnant parents and small babies up to four months of age.
Babies are particularly vulnerable for the first three months of life outside the womb while their bodies and brains adapt to their new environment. This total, almost pregnancy-like, level of dependence is the inspiration for the term '4th trimester'.

Scientific research is discovering that successfully meeting a baby's needs has a positive and measurable effect on brain development (of the parents as well as the baby!), and we believe that having the knowledge, skills and confidence to parent in an instinctive and responsive way results in a more enjoyable and relaxed transition to family life. 
At this session, Lindsay and I help parents learn about the benefits of carriers in this period of baby's life and give them a chance to try/hire on a few slings. Many find the slings provide the closeness and contact they wish while allowing hands-free opportunities to carry on with the demands of daily life.
Another vital part of 4T is the chance to  discuss and share the joys and difficulties of this time; feeding, sleeping, colic, etc, in an evidence-based and non-judgemental way.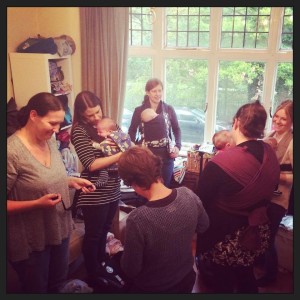 This session has been fantastically well received with many regular attenders; and new parents coming every session. One of the walls in my house is about to be knocked down to make room for this group!
In November I took a day trip to see Nicola at the West Yorkshire Sling Library and help out at one of her sling library sessions (which she holds in her home). It was a great day!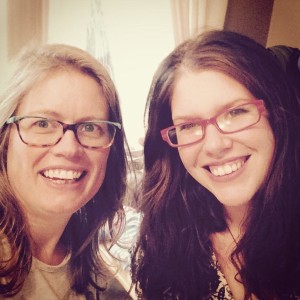 Following her example, I began the Monday afternoon The Surgery At Home sling library drop ins. This is growing steadily and it's lovely to have a slightly slower pace of visitors!
Saturday Slings continues to be popular with families who work during the week; we get a lot of Dads coming along; and its fab to share this session with Libby who is an experienced chiropractor and soon to be a sling consultant herself. Collaborations are great!
We've also had social meets in Meadowhall  where we found you could fit sixteen slingers in one lift (to be repeated next year! )and carol singing socials (also be repeated as a Big Spring Sing), and several of the 4th Trimester mums have set up cafe socials and baby sensory/swimming trips.
We've walked around the city as well for International Babywearing Week and raised a few hundred pounds for local children's charities..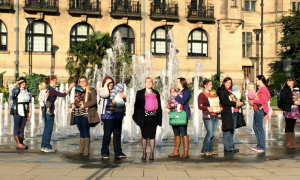 To manage all these growing resources and the rising need for easy-to find focused sling information and advice, and a place where I can share Surgery information/plans/ask for feedback, the Virtual Sling Surgery was born; a Facebook group for anyone who wants to make use of the Surgery services online as well as in person and get some help from me and my volunteers or just talk sling.

It's a friendly, thriving place and a happy online home for me!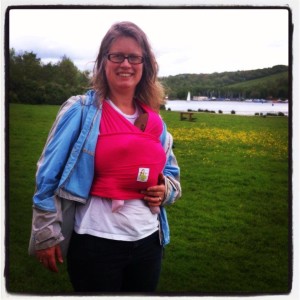 This year I went to talk to the transitional care neonatal unit at the Jessops Maternity Hospital, and to the physios at Ryegate (the children's neurodisability hospital); both of whom are keen to introduce the benefits of slings to the parents they support.
Quite a few referrals have been made from these resources, as well as from friendly midwives and health visitors who believe that carrying babies in the early months can be of great benefit. I went on the Jessops Buggy Push with one of the demo dolls in a stretchy!
I am hopeful that 2015 will be the year that NHS collaboration really takes off.
I've had stands at the Little Sheffield Show and Peace in the Park with Sheffield Slings this summer which was fabulous.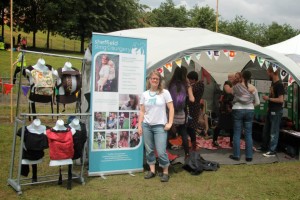 The Little Miracles fundraiser (for families of premature babies) was pretty special too, and there were a couple of others (like MacMillan coffee mornings) and so on, all about raising awareness.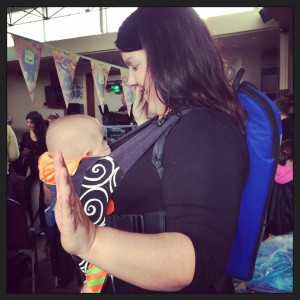 2014 also saw the Surgery enter the world of retail. I stock three stretchy wraps (Hana Baby, Boba wrap and the new Je Porte Mon Bebe basic wrap), Connecta buckle carriers, Boba 4G, Beco Gemini, Beco Soleil and soon the Scootababy, plus some babywearing accessories like fleece vests and hoodies.
I have written 40 articles (educational/sling reviews) this year! The most popular were: 
Healthy Hips- Busting some Myths
Snowsuits, Scarves, Slings and Safety
Summer Slings and Keeping Safe in the Sun
Help, My Child Hates the Sling!
These, as well as the general Sling Safety articles total almost 90,000 views, just from the website alone – with Facebook it reaches nearer 150,000.
The video that has been viewed the most is the Ring Sling Prep and Tummy to Tummy Carry with a Newborn, with 17,000 views, and the Facebook post that has engaged the most people has been the "I am a Carried Baby" poem which has been seen by nearly 40,000 people.
We've created some of pocket/wallet sized cards for sling users to hand out to people they meet in the street using a sling and feeling uncomfortable, and hope to create a wider range next year.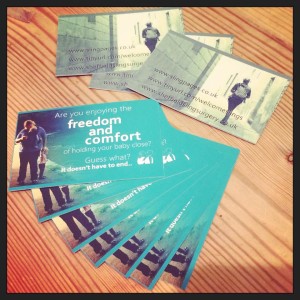 I was interviewed by Beckah at We Wear We Care and by Your Sheffield News this year, it was fun to see myself in print! 
I've tested many, many wraps and carriers, some of the most memorable being the Woven Wings Mr Kingfisher, the Oonlamoon handspun handwoven, the Sling Studio handwoven double weave Seaside Duet, a Kokoro Marshmallow cashmere blend and the Baie Slings hemp blends, to name just a few, as well as the toddler Sleepy Nico, the new Boba 4G and the Ergo 360 (which generated a lot of controversy!)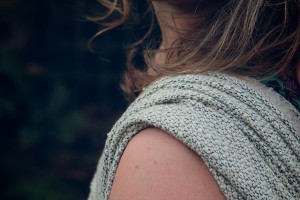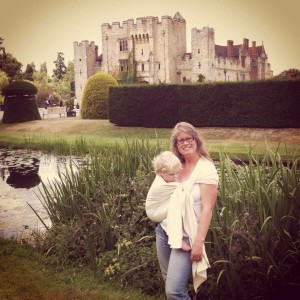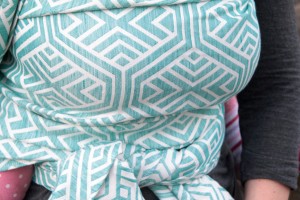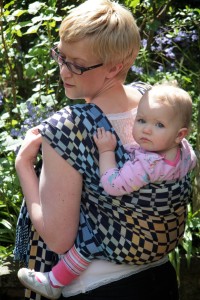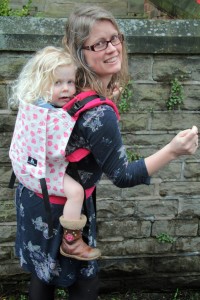 On a more national level, I have been busy too….
I joined the Slumber-Roo team in January as their in-house consultant and have thoroughly enjoyed my collaboration with them, not least attending several enormous Baby Shows!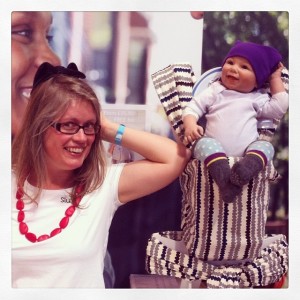 In March I also began working with the Oscha team, helping to write their website content, and joined the Gentle Parenting team as a GP writer. I wrote for Juno Magazine this October as well!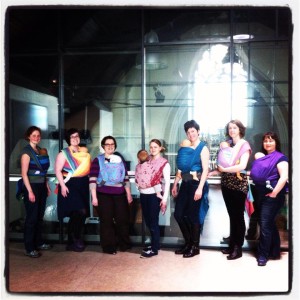 Very excitingly, I was granted the first Born to Carry trainer licence in February – since then I have run five peer supporter courses, and it is thrilling to watch many of these trainees go on to put their skills to good use helping and encouraging parents all over the region and even set up sling libraries of their own! The Born to Carry training family continues to grow around the country!
I completed a Je Porte Mon Bebe consultancy training course (my third) in March, which was really inspiring, focusing very much on baby handling and the emotional side of sling use, as well as such specialist topics such as caring for premature twins. Keren is one special lady.

 I was delighted to be able to go to several Continuing Professional Development sessions with my first trainer, Lorette from Slingababy, who still holds a special place in my heart.
The Sling Pages was set up in April this year, a project run by myself and two other sling consultants; aiming to provide a comprehensive, unaffiliated, one-stop-shop for all the sling resources (consultant, library and meet) in the UK and Eire – this was a huge job and as the sling resource grow ever larger, so does the Sling Map! Have you looked at how dense all the markers are?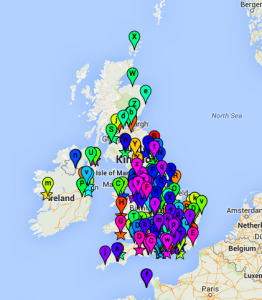 And last, but by no means least, I joined the Up Project in October, creating a lot of the training material for consultants who will be working with the project to provide carriers to families in need. There is a stellar team of commited folks working on this and some amazingly generous donors; it promises to be exciting in 2015!
I've met many, many people along the way; parents and their children, fellow sling professionals in the online support forums, made many dear friends who help to keep me sane and navigate some of the choppy waters of this emerging industry. I raise a glass (or two) to you all and send you my thanks!
No wonder I feel a little tired…. as I also work as a part-time GP and have a lively family of my own….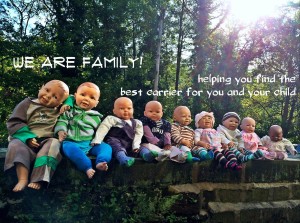 I tell you, it's been a blast!!! Here's to 2015 and a lot more fun!