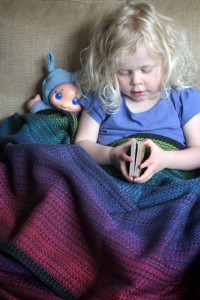 Ah, Little Fellows handwoven wrap … I have very fond memories of the week this wrap visited the Surgery. There are a few wraps that make my heart beat a little faster just from knowing they are in the world – and Mistake Not is one of them. Little Fellows is a British handwoven wrap company run by Lisa Fellows in Gloucester, she designs and weaves all the wraps herself, outsourcing the administration and marketing to Kirstie Ginesi in Calderdale.
You can find out more about Little Fellows on their Facebook page here.  Here's what Lisa has to say about why she weaves: "For me, [weaving is] the perfect blend of art and science: there are rules you have to follow, some can be broken, and every person's interpretation of the given materials will be different, and give the end user a different experience."
The Little Fellows wraps are well known for their quirky and unusual names, such as Ah Hum Gosh Golly, or  Cloudy with a Chance of Rainbows. Mistake Not is named from a warship in Iain M Banks' last science fiction novel, the Hydrogen Sonata and its full name is "Mistake Not My Current State Of Joshing Gentle Peevishness For The Awesome And Terrible Majesty Of The Towering Seas Of Ire That Are Themselves The Milquetoast Shallows Fringing My Vast Oceans Of Wrath". Lisa clearly has a sense of humour.
Mistake Not is, thankfully, nothing like a possibly angry warship, joking or not. It is a thing of great softness, of great beauty, of great gentleness. The wrap I had is Lisa's own, and wasn't brand new, but it is only a few months old, and such is its softness and cush that I cannot imagine it was ever stiff or rough. It has a mercerised cotton warp and cotlin (cotton and linen threads entwined) weft. Mercerised cotton has been pretreated to alter the chemical structure of the fibres, swelling the cell walls so the fibre becomes thicker, softer, stronger and has a greater lustre. I've never used a mercerised cotton before so I was interested in this blend.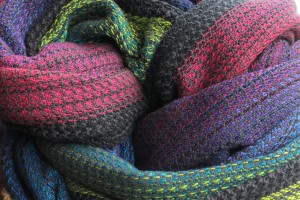 The weave is quite loose – it is an advancing twill weave, again, something new to me. It is hard to describe, but if you look at your own wrap, you can see how the warp and weft run in perpendicular directions – the warp runs from top to bottom along the full length of the wrap, and the weft runs from left to right, back and forth. With this advancing twill weave, the weft seems to run diagonally, as the photos below try to show.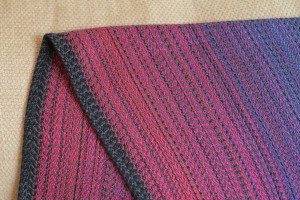 It weighs 1098g, is 4.67m long and 66cm wide, which gives a density of 356g/m2 – one of the densest, heaviest wraps I've ever used. (Thanks Lisa for providing these measurements!) All Lisa's wraps have machine hemmed tails and rails. The tails are blunt and all are labelled with name, fibre, washing instructions and a LF# which enables them to trace the date of manufacture, batch numbers of the fibres used and original length. The weaving was even and of high quality, no loose ends floating around, no thread shifting etc. There was one small pull.
The neat, small middle marker is a cute little acorn – from small things grow mighty oaks.. and this is a mighty oak of a wrap.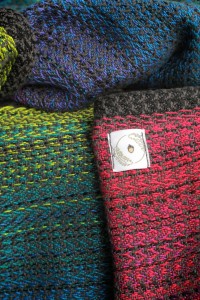 I fell in love with the colours at first sight. They are totally my colours, bright jewel tones of deep red, royal purple, sea blue, lime green, and everything in between, with smoky, chocolatey charcoal edges. It really is beautiful. I don't tend to like rainbow wraps all that much, but this I love, because it isn't really a rainbow, more a glorious meld of related colours.
There is no jarring switch from one to the other, it just flows through the colours. The lime green floats really stand out at one edge against the darkness of the charcoal, adding some zip and pop to the grading. It isn't a wrap that sits on its laurels – it has real depth, a proper royal presence. It wants attention, and it has varying personality – it can be worn with the blue-green tones uppermost, or the red-purple – you have choice.
It is awesome to touch, very, very tactile. I've never felt a wrap quite like it – even the other Little Fellows' I've felt (some of the older weaves and the newer Game of Thrones Mother of Dragons ring sling) don't match this for sheer cushiness and luxury. I wanted to wrap myself in it. Maggie wanted to be cuddled in it- giant warm arms around us both. It would make a wonderful nest to sleep on, no matter your age. For a newborn, it would be heaven to sink to sleep in… at the time I remember saying "this makes me want to throw away my Pill [just so I can use it every day with my own baby!]"..
So, how does it wrap?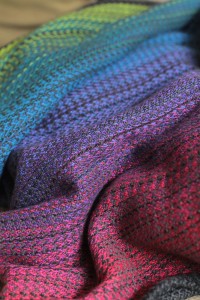 As I said, this is one mighty heavy wrap on paper. In use however, it is amazingly light and airy, and feels about half its actual weight. This is due to the looseness of the weave and the floppiness that comes from the threads used in its creation. It has none of the stiffness that you would associate with linen, and the mercerizing really does seem to add extra softness as well as shine. It has plenty of stretch but very little sag, and moulds beautifully, as if wants to hug you and baby close.
It is floppy, drapes well, glides smoothly and easily. It is very, very easy to wrap with, despite its weight. Making passes and tightening them just right is a doddle – I am an experienced wrapper and used to beastly thick wraps, but this is a class apart. It all but wraps itself. There is fortunately little slip and everything holds well while you do the next pass. It is superbly cushy.
Even bad, quick wrap jobs are comfortable because the wrap is just so marshmallowy.  It has a little bounce, and is very comfortable. The thickness of the threads and the weave give it great texture – my little girl loved using it as a blanket and rubbing her face into it and snuggling down. It is full of sleepy dust.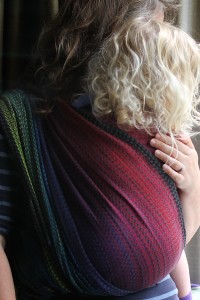 She was a little tearful one evening at bedtime and asked to be wrapped "in the pretty blanket wrap" for a sleep – this is rare these days and you can bet I fell over myself to oblige!  Front wrap cross carries often feel heavy with her these days (she is three and a half) and I can easily get backache in about ten minutes from the weight on my front, but this gave us a good 45mins to an hour of comfy sleepy snuggles.
Multilayer back carries are wonderfully well supported and single layer carries are just as comfy too, so it is suitable for all ages. Being a thick wrap, even though it is airy, means it takes up quite a lot of space, and not as cool as some in hot weather (but not sweaty hot).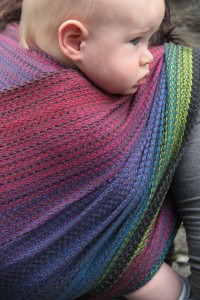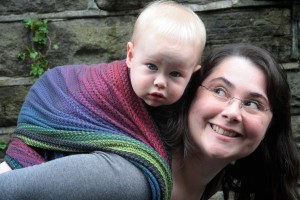 The knot is quite large. I imagine candy cane chestbelts and knotless finishes would be a little bulky, but a single knot had enough grip to hold (I would always recommend double knotting such carries).
I didn't wash it as it was only with me for a week (sadly). One minor issue I had with the wrap was that it might be a little easy to create pulls, but I believe Lisa will shorten the floats if she reweaves.
A friend came round for some photos and to try it. Here's what she had to say. "Mistake Not… has ruined me. It's the mutt's nuts. Everything I've ever tried pales into insignificance, both machine and handwoven (including other LFs) and probably will for years to come. Amazingly cushy, unbelievably easy to wrap with, incredibly supportive and just epic on the shoulders with my toddler. The wrap to end all wraps, including those that are traditionally HSA and go for multiples of RV on the boards."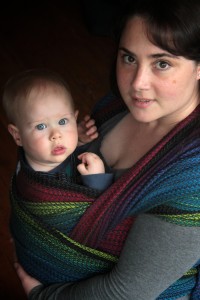 Summary
Mistake me not, Mistake Not is one special wrap.  I would use it with a newborn, a chunky bowling-ball babe, a toddler, a preschooler. My shoulders would thank me, my back would thank me, my carried child would thank me. This would be a "must have" in any future personal stash I would have, both on wrapping qualities and attractiveness. Just super!