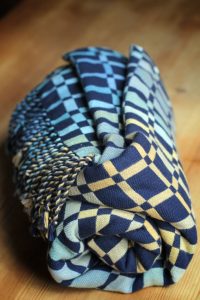 Every now and again, I come across something that really blows me away – something that really, truly is one of a kind. I tend to stay away from handwoven wraps as I prefer to stick to the more easily accessible wrap market, but I do love supporting British sling businesses, and it's good to have a balance, right?
So, this week I have had the enormous pleasure of trying out one of the first wraps from a new company called Sling Studio. Alicia Jeffrey is the lady behind the Dorset-based company, and has brought together a range of professionals in her quest for the ultimate product; such as graphic and textile designers, hand-weavers, four different mills, photographers, etc.
They are planning to release machine woven wraps as well, but so far most of the buzz from Sling Studio has come from their range "Handwoven by…" This gorgeous Sling Studio seaside duet comes from the loom of Karen Erlebach, a handweaver from Poole, in Dorset. It took her 36 hours to weave two of these 5m wraps, not to mention the many hours involved in designing the pattern, weaving test samples, trialling yarn and then warping up (threading) the loom.
A labour of love… And what a fruit of this loom! I really have never come across anything quite like this. It is 100% cotton double cloth, with two cotton warp threads, navy and a gradation from blue to yellow, and a single cotton weft, using seven different colours. This is a double-weave fabric – the ancient art of intersecting the two woven cloths together to create a double layer that moves as one. There is no right or wrong side.. and explains the "Duet" part of the chosen name for this wrap.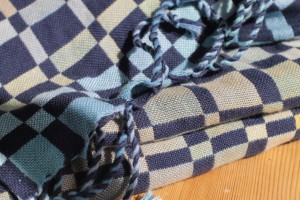 Each square is two layers, navy on one side, and coloured on the other, but the fabric feels like a single layer in hand, with no sliding or slipping of the two layers, due to the close intersections. You can see the two layers in the photo above – and if you pinch some of the larger squares you can feel the cloths separating from each other.
There seems to be two different types of weaving, with the coloured squares being simple over and under, whereas the navy sections seem more complex. It's quite remarkable. The weave is fairly loose compared to some, but not so loose you would expect pulls, and in fact I found none, and none developed during its time with me.
On very careful inspection I could occasionally see the tell-tale fluffy end of an overlap of thread, but they are very hard to find. Seaside Duet was floppy on arrival, soft, and enormously tactile. As you open it out you become aware of the complexity of the pattern, a myriad patchwork of small squares and rectangles that change in very clever ways to encompass seven different colours of blue and yellow, all of which combine to speak of the seaside.
It is very easy on the eye. Being a geometric design, it could feel busy and angular but as the colours meld together so well, they seem to flow and it actually feels very harmonious and relaxing.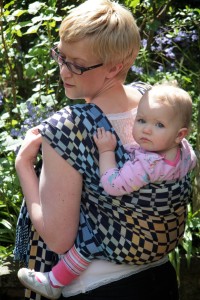 It was woven as 5m long and 70cm wide, but arrived with me measuring 4.7m long and 67cm wide (the previous user had washed it, I believe). The fringes add 20cm to the length.. It weighed 975grams, giving it a current density of about 296 g/m2. As it had just been washed it will have shrunk a little and contracted into this density. It does not feel heavyweight at all. I was surprised when I weighed it, and began wrapping with it as it feels so light. It's hard to believe how long and light is is. I have used many less dense wraps that felt heavier than this.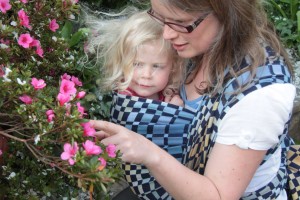 Being handwoven, there are no hems at the rails, but selvedges, where the weft thread has looped back at the end of each journey through the warps. These are very neat and straight, impressively precise. There are no tapers, as the cloth ends bluntly, with a very pretty tasselled fringe at both ends.
At the moment there are no middle markers and no labels, but Alicia tells me they are considering a raised embroidered square at the middle, to be both visible and easy to feel. It came in a simple cotton bag with the logo stamped on the front.
So, how does it wrap?
This lovely Seaside Duet virtually wraps itself. It is floppy as anything, with a gorgeous drape – no stiffness to this fabric at all. There is no need to break it in. It is light and airy to use, even though it is a double cloth it does not feel at all heavy, as if there was air trapped between each square (and reports from elsewhere seem to suggest that it dries very quickly after washing, because of this airiness).  It moves very well, with a lovely amount of stretch on the diagonal, only a touch on the horizontal/vertical planes, but being woven the way it is, it seems to move and mould more than most.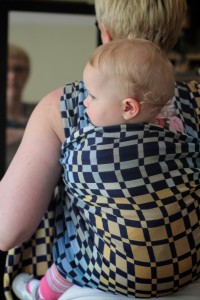 This photo shows how each square seems to act independently of each other as it wraps around, but still working in harmony. Some stretch more than others, depending on the tension (thanks to Claire for letting me use this photo, taken during a wrapping tutorial). The airiness makes it very cushy on the shoulders.. with my big three year old I did feel a touch of digging from the edge on my shoulders with the FWCC, but this vanished with a little adjustment and spreading more evenly.
Multiple passes are simple and straightforwards to make. As you pull, the fabric follows, and there is a delightful give and stretch that helps it to mould around curves, but there isn't any "boing back", which is good as too much elasticity can be a bit tricky to work with. The passes stay where you have put them.
Tucking bottom rails underneath and making them snug is easy to achieve, and there is enough grip to keep them there. I had wondered if this might sag a little, being as light and thin as it is… not a bit of it. It was solid, once wrapped, no sliding or slipping, due to the micro-grip of the weave. It is finely textured, not coarse, and you're not aware of the double weave of each square as you use it, the dimensions of each patch have been well judged.
The knot is medium size and does not make your wrists ache. I really like fringes in wraps, but rarely have them, as they seem to get caught on door handles, in stray fingers or on corners, especially those that have a knot at the top near the wrap edge and then floaty threads. The twisted tassels of Seaside Duet didn't get caught on anything when I used it, and its just so very pretty!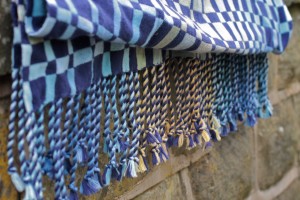 I would have loved a little longer with this wrap to try it in a single layer ruck with my big girl on a walk, but the FWCC was a good test of its toddler worthiness. I get backache with less supportive wraps, even with the best tying job in the world, however there was none with this. I really liked how I could wriggle my shoulders and the wrap would respond and mould around my movement – almost like a massage! It was lovely in the double hammock, the Christina's Ruckless, a BWCC.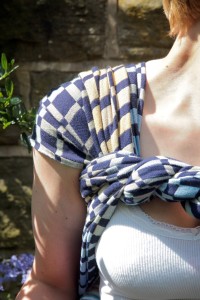 I tried a new carry I had never done before, always a good test of a wrap – unfamiliar movements often lead to slack passes and give me an idea how it might feel to a newcomer. I tried the Charlie's Cross Carry with a single ring finish. Wow. I felt so very glamorous in this wrap with this carry.. it performed very well, was very comfortable, and even though it was a warmish day, my little girl and I didn't feel hot or encased in this multipass carry. She told me she was comfortable and didn't want to get down!
I used it in a wrap tutorial, and the lady fell in love with it, saying that it was unlike anything she has ever used before (and she's used a few very nice wraps already). I'm inclined to agree with her – this is one of a kind! It is soft and floppy and floofy enough for a newborn, but strong and flexible and cushy enough for a toddler. It's ready to use from the box.
It can be washed easily as it is pure cotton. It doesn't need special care and doesn't feel delicate enough to need treatment with kid gloves. I'd be happy to use this at the beach and get it sandy and salty. I'd be happy to let it get mud splashed, as it dries so quickly.
I'd use it dressed down with jeans to add some glamour, and also wear it with a pretty dress to make a statement. Fantastic! My one comment would be that the pattern, lovely and innovative as it is, makes it hard to tell which edge is which. It would be quite easy to accidentally flip a rail and not notice, but as this is such a forgiving wrap, it might not matter that you didn't notice! I wonder if having a single contrast thread along one selvedge to the other might help with this?
Summary
I have loved every minute of my time with Seaside Duet. It lifts gloomy days with its cheeriness and colours. I love geometric patterns that lose their formality with being curved and wrapped around a living dyad and develop movement and fluidity. If I was to force myself to have a capsule stash of only a handful of wraps to last me for all my wrapping days, this Seaside Duet would make it in. Rather than a large collection of lots of carriers, I feel it would be worth having less wraps to be able to have one of something like this high quality, very luxurious sling.