Diva Milano are a well known and well established luxury brand of baby wrap makers, who have just released a new line of cotton wraps, the Diva Essenza range. They have subtitled this new range "the best from Diva Milano for a better price." The sling featured in this review is the Diva Milano Essenza Wrap.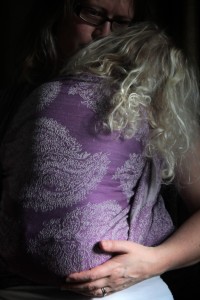 I have had and hosted a couple of Diva Milanos in the past – the 100% cotton Veneziano Marrone Blu and the Reticella Azzuro (with wool).
Both wraps were refined, kitten soft and elegant – delicate and lovely for little babies. My toddler soon felt heavy in them, so I was keen to try out this new range. It is woven with Indian cotton, rather than the Egyptian cotton used in their Diva Milano ranges (which is more expensive to produce and softer in texture), but their website says the quality is still very high, coloured with Azo-free dyes at an established ISO-certified factory.
Basic Information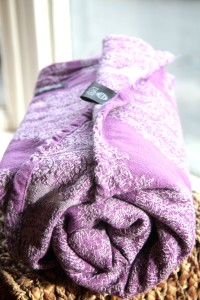 This lovely purple 100% cotton size 6 Lilla wrap was with me for two weeks, on the second leg of its journey round the UK wrap professionals. It is beautiful to look at – the pattern is elegant and fully in keeping with the Diva design palette, extremely classy.
A very grown-up wrap indeed.
I was the second tester, and it came to me with a warning that it felt pretty beastly.. and indeed it did feel rather crunchy, with a definite solidity to it, very different from the ones I have tried before, which have been light and thin and incredibly floppy. It is a tight, dense weave, weighing 780g, measuring 4.6m long and 64cm wide with a soft tape in hand. Notwithstanding the hems, this gives a density of approx 265 g/m2, a medium to thick wrap.
The hems are well done, the tapers are even and standard, the middle markers are central and easy to locate, but not too large.
So, how does it wrap?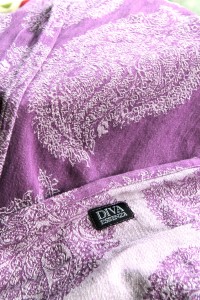 As I mentioned before, the first time I felt it, and the first time I wrapped with it, I was instantly aware that the Diva Milano Essenza Wrap is vastly different to my previous Diva encounters. It is heftier, thicker, sturdier. Just as pretty and elegant to look at, but certainly tougher and less "refined" than the standard luxury lines.
In fact, when a friend of mine wrapped with it at the library session that Saturday, he asked if it had hemp in it. No – its 100% cotton, but that gives you an idea of its presence and solidity. It was hard to work with in its stiff, unbroken state. Passes were hard to make due to the high grip, and it feels dense in hand. Being thick and solid, it was cushy on the shoulders, but still a little diggy due to its unwieldiness, and didn't feel very mouldable at all.
However, I persevered, and wrapped with it again and again, persuading my heavy children to have a go to help with the breaking in (bribery with sweets goes a long way), and all of a sudden, it broke in (on about the third use). What a different wrap it was! No longer stiff and beastly, and actually, a delight to use. Having lost its stiffness, it handled much better and I didn't feel like I was wrestling with it any more.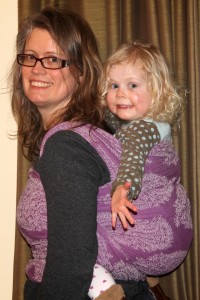 It isn't the kind of wrap that drapes elegantly, having too much body to it, but it still wrapped well – the grip that was so hard to deal with was much more manageable once the smooth unpatterned sections of the wrap were soft, and it held very well, once the passes were in place.
Before it broke in, I was having to strain and struggle a bit to make the passes in a double hammock, and gathering the width of the wrap for the cross passes with a ruck tied in front was also hard work, but once it was floppy, it was much, much easier. Tying the knot no longer made my hands ache – and in fact it was sturdy and grippy enough to be secure in a single knot. Finally being soft made such a huge difference. It feels as supportively forgiving as a hemp or soft linen blend, thick and strong.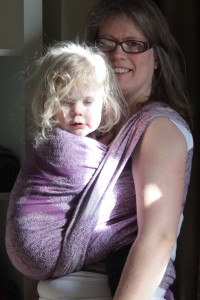 The pattern really stands out to touch – very textured indeed. There wasn't a great deal of bounce or stretch, but it does have a nice bit of diagonal give which helps with the moulding. The knot is fairly large, as you might expect but once broken in, not hard to make.
I really enjoyed the Diva Milano Essenza Wrap, once it was broken in. It was very supportive in single layer carries with my big children, and fantastic in multipass carries, with no slip whatever and a lovely cush when spread well over my shoulders. My little girl really enjoyed it, she didn't slip down or settle, but remained nice and high. There was no slide off my shoulders, due to the grippiness of the textured pattern. She fell asleep in a front carry, rare these days, and very precious for me. Often I get back-ache in front wrap carries but this was more than supportive enough.
I think this would be suitable for babies, toddlers and preschoolers alike once well broken in (while still stiff it would not be as cuddly for a delicate newborn's skin). It is very different from the previous Diva wraps I have used, and in fact, I prefer this Essenza range (while I appreciate the texture of the Essenza is not the same as the highly refined standard luxury line, I like to be comfortable!)
I didn't wash the wrap, in part to avoid the next tester needing to repeat the breaking in process.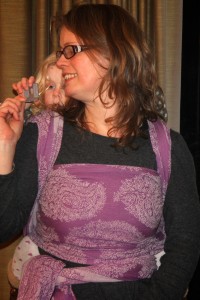 I think Diva are onto a winner here. A more affordable wrap which is superbly supportive, in a simple cotton blend that will be easy to care for. It is very attractive to look at, and beautiful wrapped as well, and once the wrap has broken in, is a delight to use.
It is not one for those who do not wish to put any effort into getting the most out of a wrap, or for those who demand kitten softness from the box, and might not be the easiest sling for a newcomer to learn to wrap with, but it is well worth the effort, for those who want a stylish, classy wrap to last from birth to toddlerhood.