This week I have been hosting the Joy and Joe Maxi Roses Cashwool travelling wrap. This is the second wrap from this British company that I have tested, you can read my review of the Blackberry Ripple here. They are as different as chalk and cheese!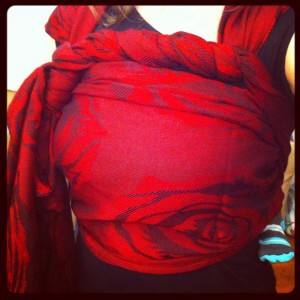 The Joy and Joe Maxi Roses Wrap is very, very striking from first glance. It is a scarlet and black design of large red roses, with black shadow detailing. It's bright and bold indeed. It is very, very light, loosely woven and thin – thin enough for light to shine through, but not at all insubstantial.
Basic Information
It's a 50% cotton, 50% "cashwool" (a lightweight merino wool) blend, and is very soft right from the bag. I was the second user, so it clearly needs no breaking in. I believe this has not yet been washed and is fresh from the loom, which is impressive.
It is an "XL" size, which when measured soft tape in hand, comes to 4.55m, and it is 66cm wide. It weighs 525grams, giving it a gms2 of approx 175 g/m2 (this is not allowing for the hemming, which will increase the actual area a little more).
The hems are mostly well done, the previous tester noted a few sections where the hem had come loose from the stitching due to a slight waver, but the edges are overlocked so there is no fraying. The tapers are normal, not over-long. The middle marker is almost central and is a small "Joy and Joe" label. I'm not overfond of the care label next to the middle marker as it is bright white and for a little baby could feel rough against the skin. This would be better at the taper, perhaps.
So, how does it wrap?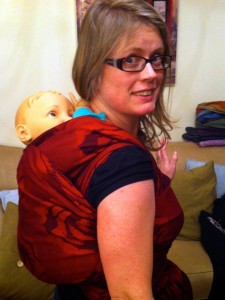 The Joy and Joe Maxi Roses Wrap, being as lightweight, soft and floppy as it is, is very, very easy to wrap with. It's light, airy, moves well, almost floats. It glides through passes beautifully, and yet still grips just enough for passes not to slip. It's easy to work with, and very mouldable, due to the loose weave. It isn't elastic – it has a good amount of diagonal stretch as you'd expect from the weave, but it isn't elastic.
It's soft and cushy on the shoulders and I didn't feel pulling on my shoulders with my 3yr old, but because it is thin, I did take care to spread the fabric well over my shoulders (I was aware of the rails digging slightly, and a little tweak soon sorted that out).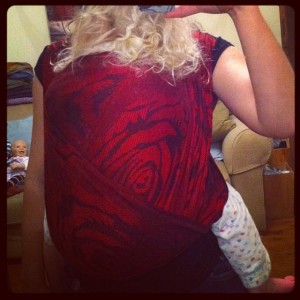 Texture wise, it's unusual. I don't think I've felt a wrap quite like this before. It is very smooth, with a little bit of texture over the roses, but mostly it's flat. It certainly feels different to most woven wraps, and different from other merino wraps as well – almost slippy, but it doesn't actually slip as much as you think it will! It is very thin and could feel delicate, but in use it was sturdier than it seemed.
The knot is predictably easy to tie, and small. It works well as a neat slipknot.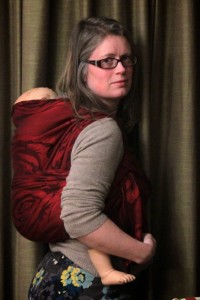 Multipass carries are easy to make – I tried a FWCC, reinforced ruck and double hammock, all lovely, and as the wrap is so light and thin, it wraps long. Single layers are still supportive – a ruck and a kangaroo carry worked well for smaller children.  My light three year old was comfy in a multilayer carry, but less supported in a single layer.. my almost 6yr old wasn't keen on the pattern and said "no!" 🙂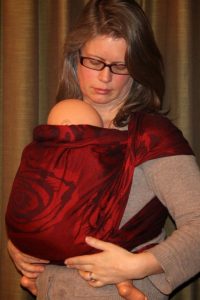 This would be really lovely for a baby, soft and very gentle, easy to work with and no tugging to tighten. It would be a great learner wrap as well, as it is so light and floppy and glidey. Stiff, heavy and overly grippy wraps can make learning to back wrap hard work, with what feels like acres of stiff fabric that just won't move.
The label says handwash only – as there is a loose hem, I have not washed the wrap.. this may be an issue for some, as handwash-only wraps take time to care for, and a parent with a child who is often regurgitating milk may find this difficult. However, this is a lovely sling and would probably be worth the effort. It will snag easily, due to the loose weave.
I am not keen on the literature that comes with the wrap, however. Such a lovely product needs a booklet that has simple, clear, well-illustrated pictures of how to to a basic FWCC, as a minimum, meeting the needs of those who are new to wrapping, rather than half JBC's, for example.  Hopefully this will soon be in the works as this company grows in confidence and funding.