4th Trimester Cycle – slings and parenting support
When:
12th September 2016 @ 10:30 am – 12:30 pm
2016-09-12T10:30:00+01:00
2016-09-12T12:30:00+01:00
Where:
The Snug
71 Leadmill Rd
Sheffield S1
UK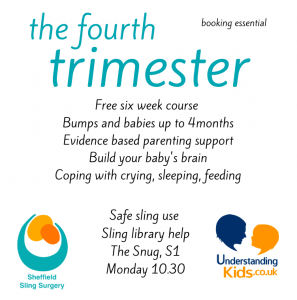 Our Fourth Trimester postnatal parenting support programme is a half term 6 week cycle for parents and carers with bumps or babies up to four (ish) months of age. (This early period of nurturing in the first few months of a baby's life is often known the "fourth trimester").
The sessions run weekly, with pre-arranged topics from Lindsay at Understanding Kids and Rosie/Jess from Sheffield Sling Surgery and Library – covering common challenges in these early months. The cycle is designed to equip parents with information and help to make a confident start on their parenting journey. The sessions are free to attend (but we welcome a suggested £2 donation towards volunteer costs.)
The first session is all about relaxing into parenthood and connecting with your baby, and how slings can help to build secure and loving relationships. In subsequent weeks, Lindsay will support parents with topics covering crying, sleeping, how baby and parent brains work, relationships and more.
There is regular infant feeding support from Lizzie Rolls, an IBCLC and health visitor, and Libby Phillips, a chiropractor from S1 Chiropractic.

After each week's topic, there will be sling safety guidance and support. We are happy to help you with your own carrier and we have a wide range of slings in the library for trying on, they can be hired from this session and taken home.  The free stretchy wrap/Caboo hire scheme can be accessed here too. You are welcome to just come to the sling library section if you wish.
We will encourage attendees from each cycle to develop "village" style friendship groups and encouragement, we'll collect your email address at sign in to be able to facilitate this, and we will signpost to further parenting and sling support via social media groups and useful resources.
You are also welcome to just come to the sling library session from 11.30 onwards.
What happens at a Sling Library drop-in?
A sling library gives you a chance to try things before you buy, as a sling that isn't comfortable for you, or one that your baby does not like, could be an expensive experiment! Some parents find a carrier they love straight away, some may try several different types before settling on one that feels the best. Every parent and child combination is unique and what worked well for your friend, or what you have been advised to try on the internet, may not be the best-fitting choice in real life.
No appointment is needed, but if it is busy, there are chairs and toys available while you wait, Rosie and the peer supporter team will see everyone in turn and sometimes help several families with similar needs together. Slings can be taken away on hire to use at home for a period of time. Slings can also be purchased from the Sling Spot (www.sling-spot.co.uk) at the session.