Carrying Advocacy and Peer Supporter Course
When:
13th September 2017 @ 9:00 am – 5:00 pm
2017-09-13T09:00:00+01:00
2017-09-13T17:00:00+01:00
Where:
The Snug
71 Leadmill Rd
Sheffield S1
UK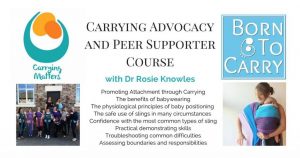 Carrying Advocacy and Peer Supporter Course
On this course you will learn

the benefits of babywearing
how to talk to people about the importance of carrying
the physiological principles of baby positioning to protect airway, spine and hips
demonstrating and discussing the safe use of slings in many circumstances (eg feeding)
confidence with the most common types of sling
practical demonstrating skills
troubleshooting common difficulties
assessing boundaries and responsibilities
babywearing in a historical/sociopolitical context

The course would suit those planning to or currently running sling libraries or sling meets, doulas, midwives, BabyCalm practitioners, antenatal/postnatal teachers etc, as well as parents who want to feel more equipped to share their love of slings.

The ticket price (£90 per person) includes a copy of Rosie's book, Why Babywearing Matters, published by Pinter and Martin.


We will send you the pre-course forms on receipt of your booking.

More information about the course can be read here https://www.carryingmatters.co.uk/peer-supporter-training/

Sling Fitness Training queries – please note that due to the complexities of bringing together different fields of expertise I can only offer training to those who already have a qualification in postnatal fitness, and it will depend on the type of class you are offering. If you want to discuss whether your qualification is suitable for entry on this course or if your proposed class would be suitable, please email me. I do offer courses specifically tailored to sling fitness. My thoughts on fitness/dance classes while babywearing can be read here (www.carryingmatters.co.uk/slings-and-exercise)
Objectives
The Carrying Advocacy and Peer Supporter Course aims to enable people who work with parents to give robust, safe advice about babywearing and infuse the people they meet with excitement and confidence about carrying and using a sling. It is not a consultancy course (therefore does not cover advanced techniques such as back carrying or complex woven wrap techniques), but is designed to equip trainees with the tools they need to be able to support the parents they meet.
Parking / transport
There is parking on the nearby streets £5 per day, also in various carparks nearby. The train station/interchange and bus stations are within easy walking distance.
Additional information
Space for 10 people, £90 per person.
FAQs
Can I bring my baby? . . Babies in arms are welcome. Mobile toddlers can impact on learning throughout the day, so please consider carefully if child care on the day may be better; please email me if you need to discuss, we will do our best to accommodate. . .

I need to cancel my space, what do I do? Course fees are non-refundable under normal circumstances, in many situations the ticket can be transferred to another course, or transferred to another participant, by agreement. Please contact me to discuss. .